Download the free version of FixMKVGaps 2.4.0 en
delivered only for personal or family use.
( 825 Ko)
updated on May 18, 2018
Request a Pro license for FixMKVGaps 2.4.0 en
Read the documentation of FixMKVGaps 2.4.0 en

FixMKVGaps
; is a tool for repairing Matroska video ( 
.mkv
 ) files that get stuck during playback.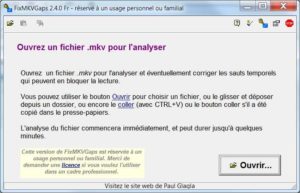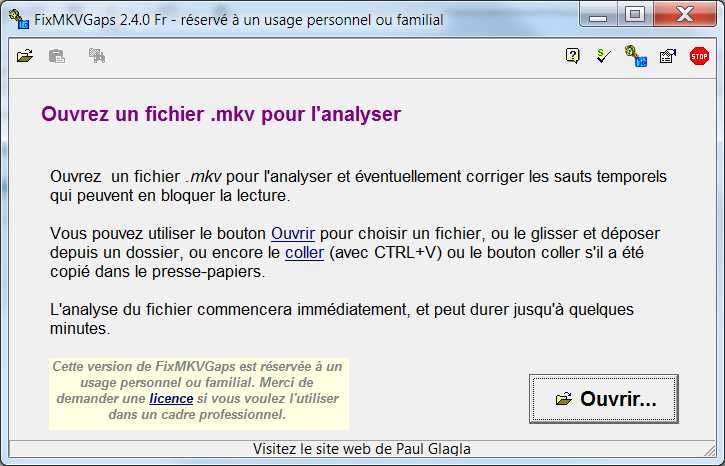 If you have a 
.mkv
 file that hangs during playback, it is likely that there are discontinuities in its timestamps. Open it in 
FixMKVGaps
 and it will immediately analyze it.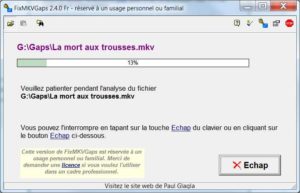 After a few minutes, it will give you the result of the analysis: it will tell you if the file is correct (but only from the point of view of time codes) or if there are gaps. He will also tell you where they are.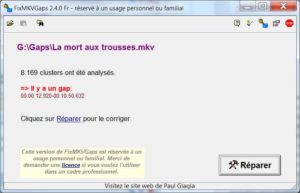 If the 
mkvmerge
 tool is installed on your system, 
FixMKVGaps
will use it to remux your 
.mkv
 file by removing all the "gaps".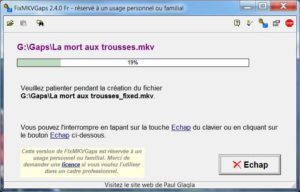 It will leave the original file unchanged and create a 
_fixed.mkv
 file that will be the repaired file. You can then delete the old one, if you want, and read without blocking the new one.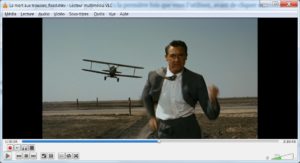 ---